11nocturn
| | |
| --- | --- |
| Name: | 11nocturn |
| Version: | 2020/08/24 |
| Published: | 2014/02/23 |
| Type: | Max/Msp C external |
| OS: | Windows, Mac OS X |

A Max external that communicates directly with the Novation Nocturn usb device. No Automap, no script or virtual midi line in between.
Send numbers to control any LED of the Nocturn and receive button presses, dial / fader movement and touch sensors. The object was the first step to build an interface to control Ableton Live with my Nocturn without using Novation's Automap: Nocturn4Live Device
Screenshots: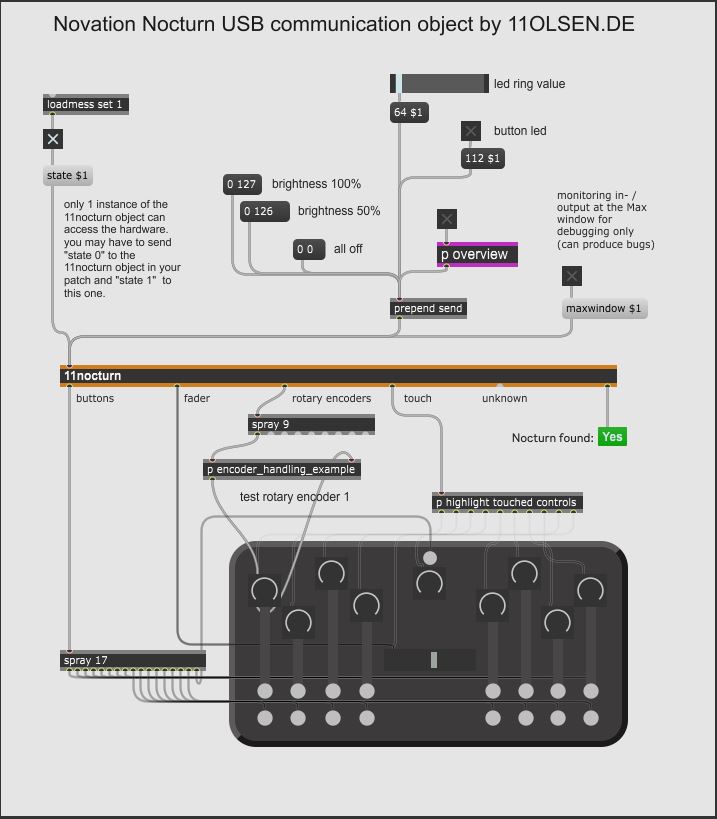 Setup:
Copy needed files into your Max search path.
Windows users need to replace the driver for the Nocturn with the WinUSB driver.
That's easy, check the README.md in the zip.
Changelog:
2020/08/24:
complete rewrite
now cross-platform and on github
Open Source:
Files:
11nocturn.maxhelp

11nocturn.mxo

11nocturn.mxe

11nocturn.mxe64

README.md

zadig-2.5.exe

 5.06 MB
  GNU/GPL
Category: Max Objects