MEAP4Max
| | |
| --- | --- |
| Name: | MEAP4Max |
| Version: | 1.0 |
| Published: | 2015/9/15 |
| Updated: | 2015/9/15 |
| Type: | Max JAVA Objects |
| OS: | Windows, Mac OS X |
| Compatibility: | created in Max 7 |

A collection of Java objects used for audio segmentation, feature extraction (audio metadata) and also rearranging segments based on features and writing a new audio file.
MEAPsoft was created by the participants in the Music Engineering Art Project at Columbia University. See the MEAPsoft Homepage. It was written in JAVA with a good object oriented design.
The goal was to extract the interessting parts like the segmenter, the feature extractor and the composer and give them a new life as autonomous max objects. MEAP4Max is released under the terms of GNU GPL v2 licence.

Highlights:
2 different modes for slicing
a good set of feature extractors including (MFCC)
easily expandable with more extractors and composers
source code included
well documented overview patcher

To-Do:
optionally to files it should be possible to use a dict to pass data between objects
there's a visualization unit in MEAPsoft which has been left out
Seg.java should be able to directly read a part of a buffer~ as input
Synth.java should allow xfading of chunks
Synth.java should be able to write to a buffer~
the overview patcher could be organized by using tabs
Screenshots: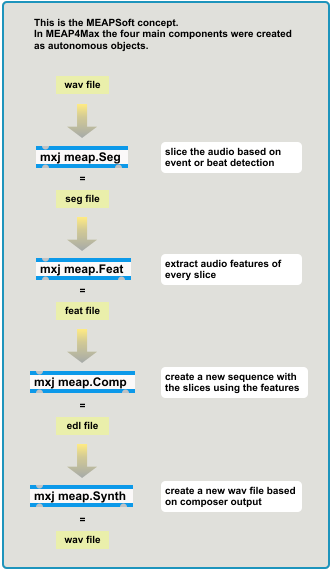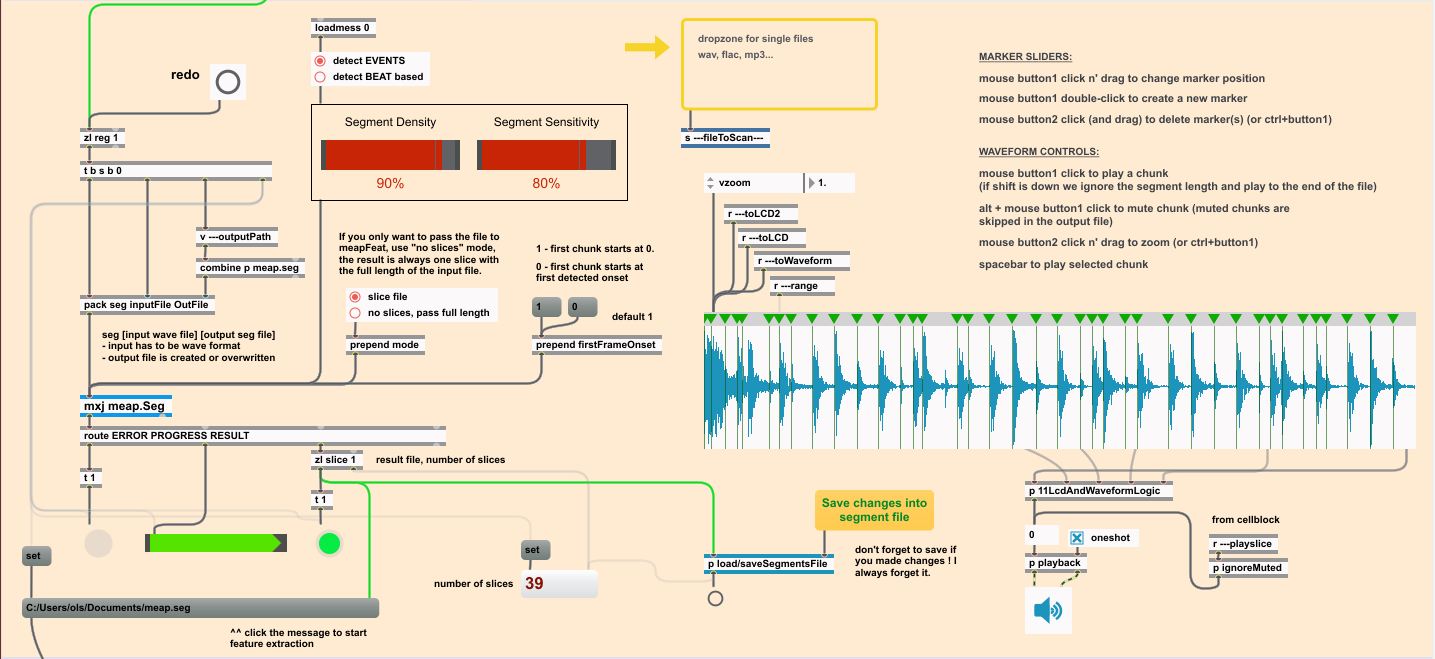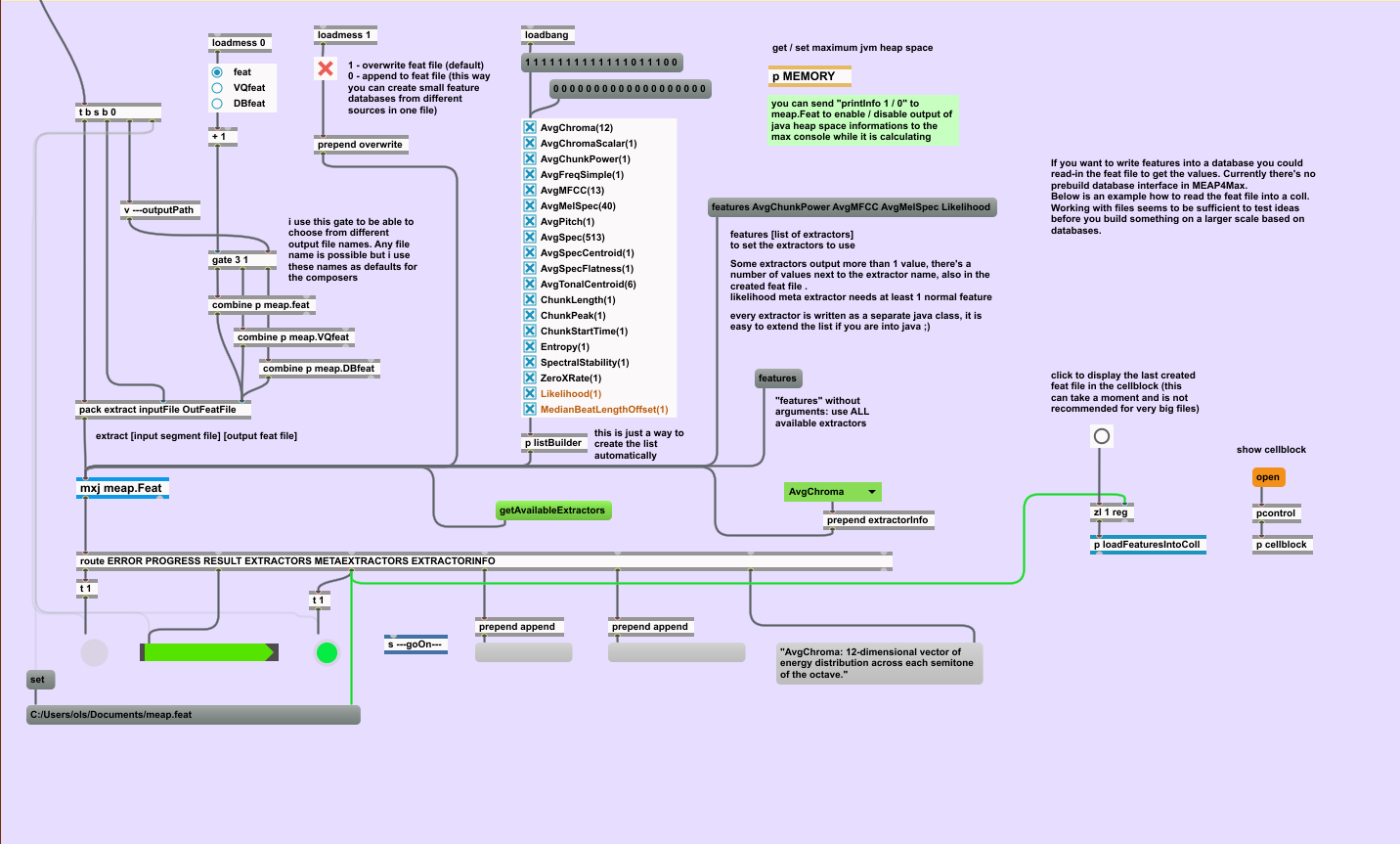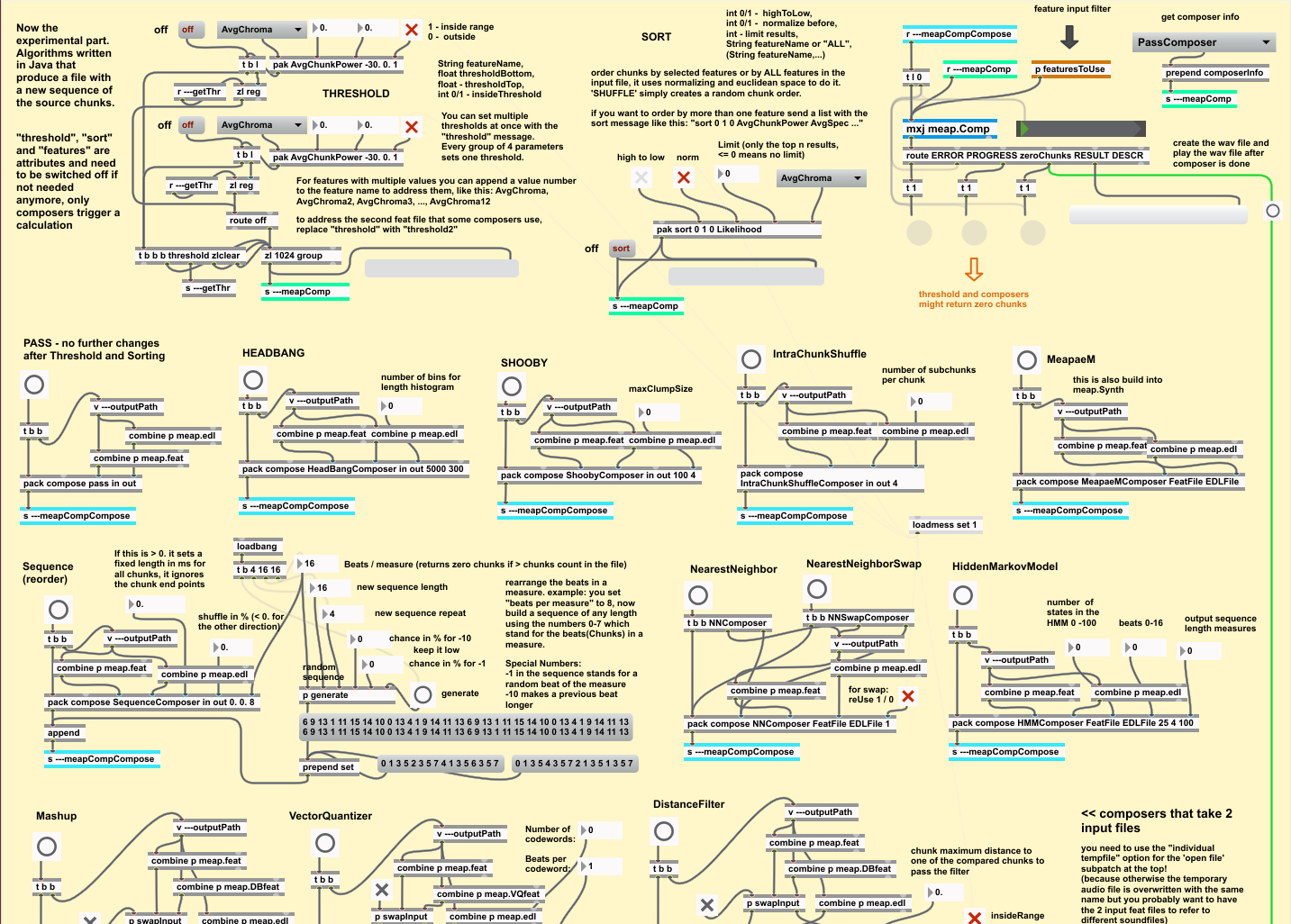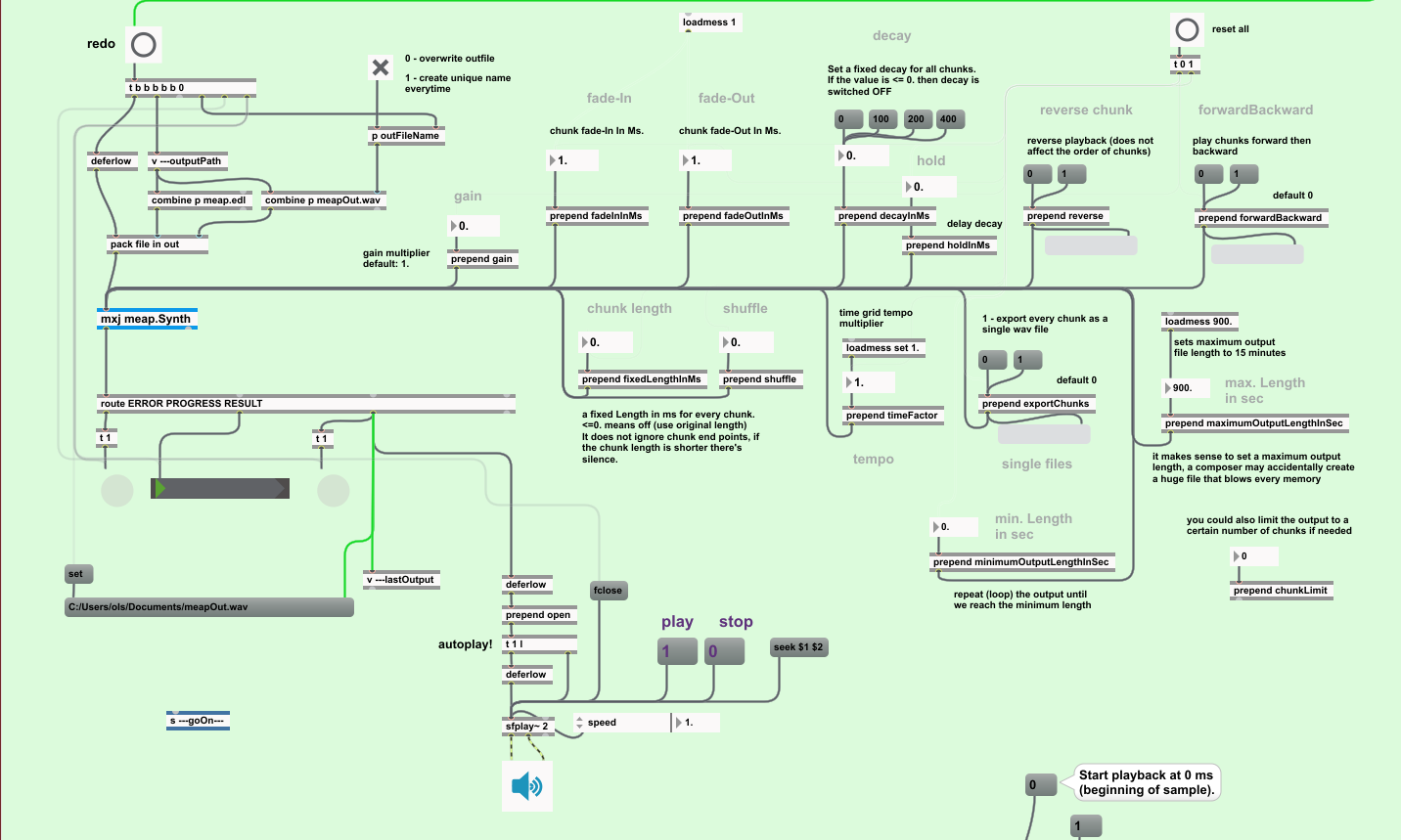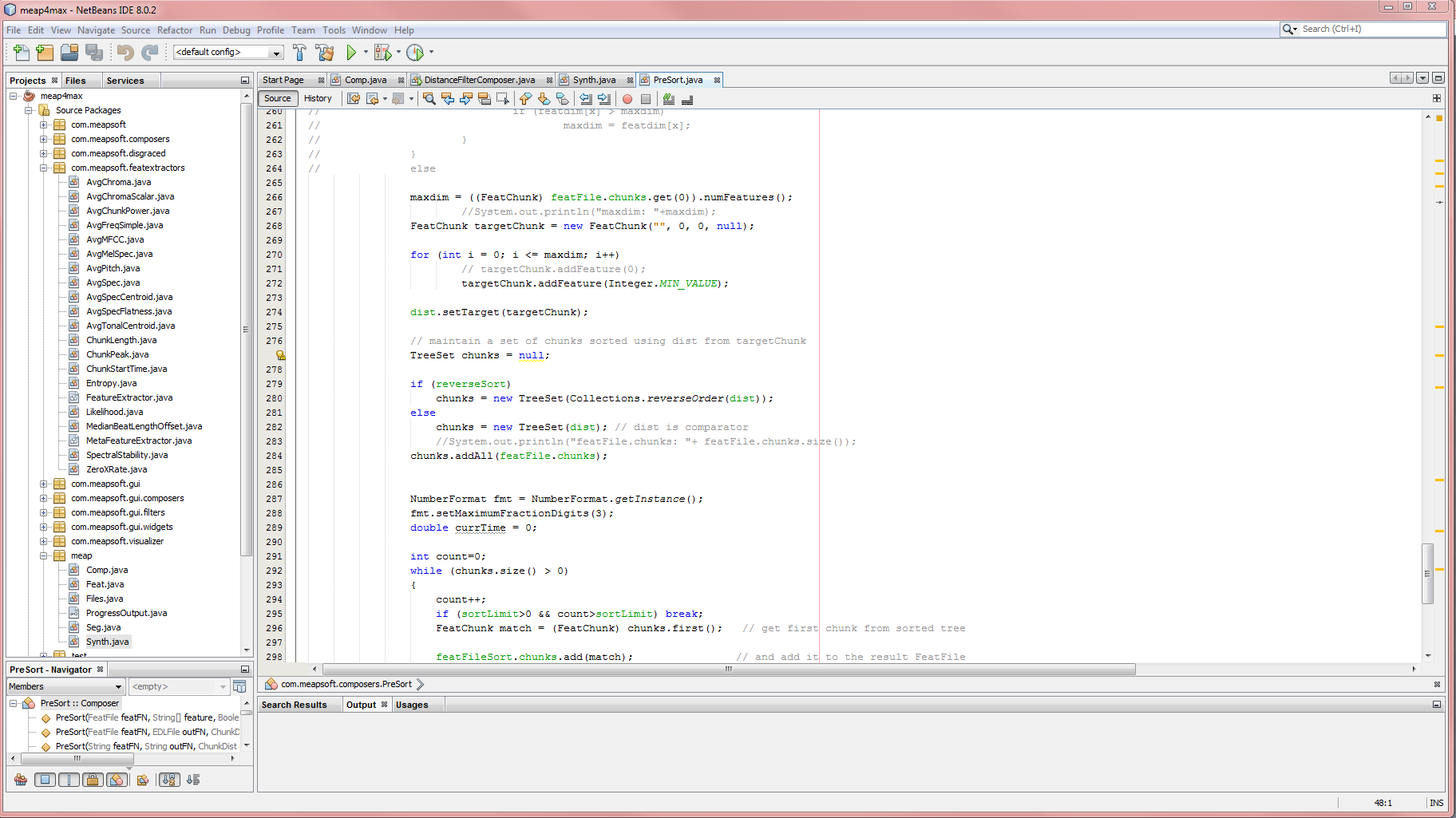 Setup:
Please take a look at readMeFirst.txt and follow the instructions. You need to copy some jar files into the Max application folder.


Files:
meap4max.jar
tritonus_misc.jar
tritonus_share.jar
meap.Cellblock.js
meap.file.size.js
meap.iterateFolder.js
meap.string.shorten.js
MEAP4Max.maxpat
meap4max1.0_src.zip
COPYING
readMeFirst.txt

 955.02 KB
 
Category: Max Objects