This was the logical step after creating the nocturn object. A m4l device that translates the raw Nocturn in/output to a system of pages to access the different sections of Live's API. The part that was handled by "Automap" and control script before.
This is again a PC-only release because it depends on my 11nocturn object. 
It should be pretty self-explanatory. A user window always shows the mappings and settings of the current page. There's a dedicated button on the controller to show/hide the user window.
Motivation: 
my old solution (Automap+script) didn't work in Live 9
the idea to circumvent installation and configuration of Automap, a control script and so on
i like the rotary encoders because they are easy to switch to another parameter and resolution. They're endless which is better for scrolling and navigating than standard 0-127 midi knobs
for peace on earth
Working with parameters in the Live Api leads you to a decision on using live.remote~ to make fast but not recordable tweaks or using live.objects for lower-priority but recordable parameter changes.
I used live.object in any case to be able to record automations for device parameters. Now, we finally can do that in session view with Live 9.
Please don't hesitate to send me bug reports or suggestions. I patched this for my own needs and that may have made me blind for certain things. Same is true for growing complexity of patches.
As far as what i have planned, one major update will follow. And maybe i'll add a video to show the basic function of the device. Everything beyond depends on your feedback.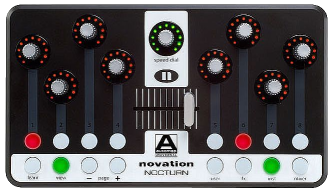 The idea came up when i tryed to install the Novation Nocturn again after a long time and itegrate it into Ableton Live. It's a pain. You really can't use this device without Automap, the software provided by Novation to create mappings for midi messages which are being sent into other software via virtual midi lines. And there's no native support for this controller in Live.
I needed an object to directly talk with the Nocturn from Max/Max4live. In the end, I will connect this object with the Live Api in a Max4live device and, by this, bypass the second pain of using/creating a custom phyton controller script in Live. I mean, a patch is far easier to customize and adapt to personal needs.
This guy obviously found a way to use the usb protocol of the nocturn with python under linux. With his Informations and some usb-sniffing in Windows i was aware of the protocol.
This is coded with the help of libusb-win32, a port of the USB library libusb 0.1 to the Microsoft Windows operating systems. I highly recommend to take a look if you think about custom drivers or custom interfaces for usb devices.
Interessting talks about this topic:
This release has NOT been tested extensively with many different maschines and conditions. Your feedback is really appreciated!

These two Max externals for Windows can simulate keyboard and mouse input. Keystrokes and mousewheel input affect the active window.
Remote controlling (music-) software for me is one key for a smooth workflow. But sometimes important functions of a software cannot be assigned to a controller but to the keyboard or mouse.